Top 10 UK Family Cycle Routes
While many of us will be taking the long-awaited chance to jet off abroad this summer, there are still many amazing places left to explore in the UK. At Bike Club we couldn't think of a better family holiday activity than a good bike ride, so to help out with the planning we've compiled a list of our favourite family cycle routes.
This is by no means an exhaustive list and if you've got recommendations for your local area we'd love to hear them!
These routes are mostly traffic-free but some do cross roads at times so please take care and plan your routes carefully before riding. 
Tamar Trails - Devon
Hidden away in the Tamar valley on the border of Cornwall and Devon is the hidden gem that is the Tamar Trails centre. With over 25km of dedicated off-road biking trails there are routes for all abilities making this the perfect destination for family days out as well as adventure seeking mountain bikers. The Mineral Railway Trail is best suited to families with younger children, a wide flat route with plenty of heritage to explore along the way.
The Tarka Trails - Devon
A great option for exploring North Devon, the Tarka Trail is one of the country's longest continuous traffic-free walking and cycling paths. So if you've got little legs along for the ride it might be worth limiting how far you follow this route. The ride gives you incredible views of the Taw Estuary and if you're lucky you might even spot one of the hovercraft making its way along the river.
>>Check out our other recommendations for family cycling in Devon here<<
Camel Trail - Cornwall
Like many of our picks this route follows an old railway line, but unlike the others there is still a steam train that follows a portion of the trail here. So for an extra treat for little rail enthusiasts, you can buy a ticket and hop on and off with your bikes. This route is one of Cornwall's most popular cycling destinations an offers stunning views all the way from Bodmin to Padstow – don't forget your bucket and line to finish the day with a spot of crabbing in the harbour!
>>Check out our other recommendations for family cycling in Cornwall here<<
Richmond Park - Southwest London
One of London's most popular cycling destinations with enthusiasts and families alike there is a 9km round trail that is perfect for a family day out. Make sure to check the visitors maps to keep to the cycle trails give pedestrians priority. Richmond Park is far more wild than it's relatively central location would suggest and there are even deer roaming free.
Waterlink Way - Southeast London
This one's for those Southeast Londoners making the most of a staycation this Summer. This is a 12km route that follows the rivers Pool and Ravensbourne all the way from Deptford to Sydenham linking many parks and green spaces. One of the most surprisingly tranquil spaces for riding we've ever found in the Capital. Lewisham council have a great map here
National Trust Osterley Park - West London
Just within the M25 National Trust Osterly Park has plenty of amazing options for a family riding day out. The route follows the perimeter of the park through woods and open land. The bonus here is that being National Trust means there's always plenty of options for refreshment close at hand.
National Trust Nostell Priory - Yorkshire
Set in the parkland around Nostell Priory near Wakefield in West Yorkshire, this figure of eight loop is 4.3km long and is designed with families in mind. If you're lucky you might even spot a kingfisher or heron as you ride past the lakes.
Spen Valley Greenway - Yorkshire
Home to a number of artworks that our friends at Sustrans commissioned specially for the route this path is perfect for a family day out with views across the moorland and plenty of habitats to observe as you ride past the nature reserve.
Peregrine Path - Monmouthshire 
Straddling the border between England and Wales and taking in some of the stunning scenery of the Wye Valley, this lovely route heads from the historic town of Monmouth – filled with plenty to see and do – and takes you all the way to Symonds Yat with amazing views across Wales where nesting Peregrines can be spotted.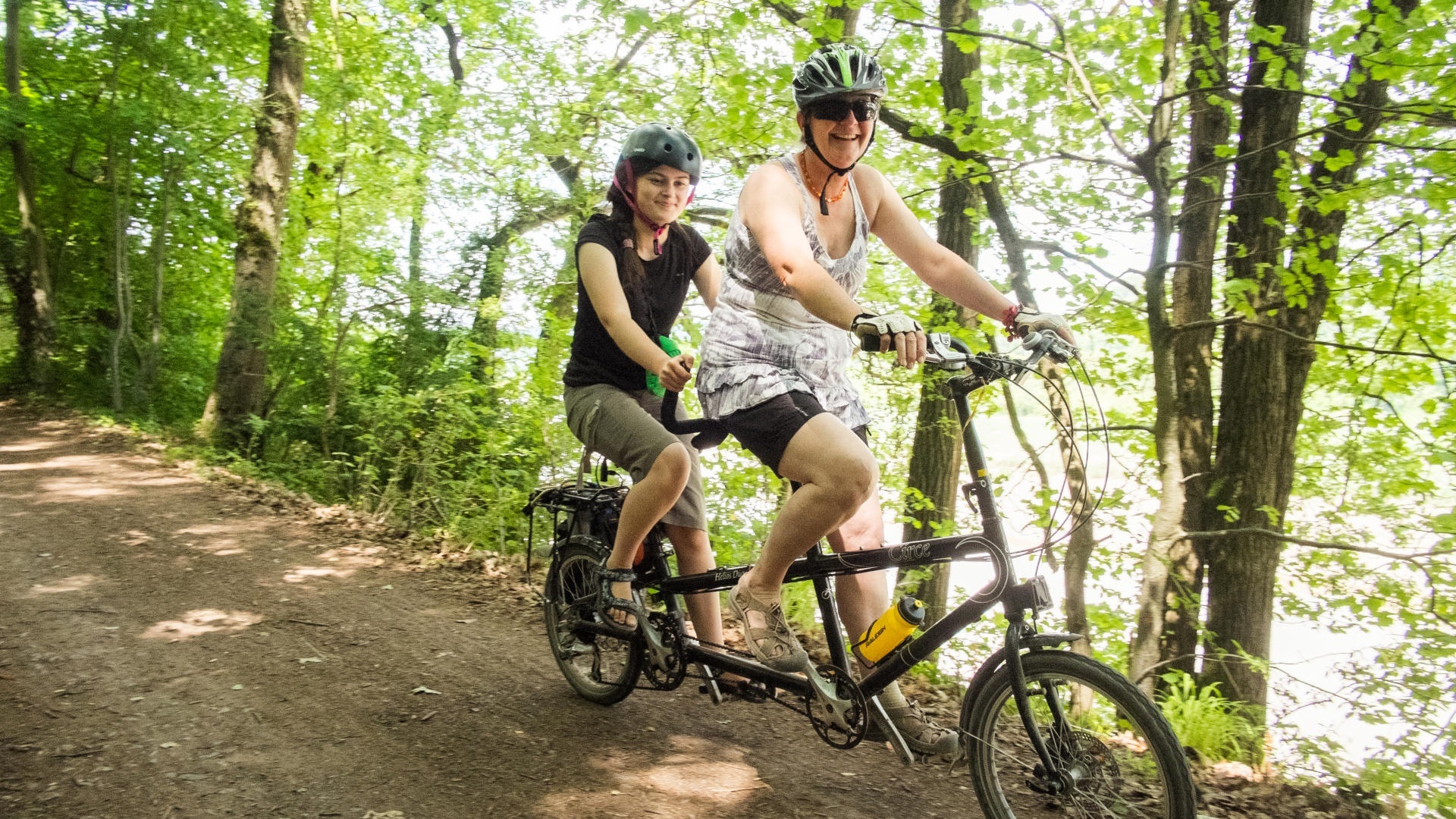 Millennium Coastal Path - South Wales
One of the most stunning sections of the Celtic Trail, this path is perfect for a family day out along the Gower Peninsula. You'll even ride alongside one of the only sand dune forests in the UK.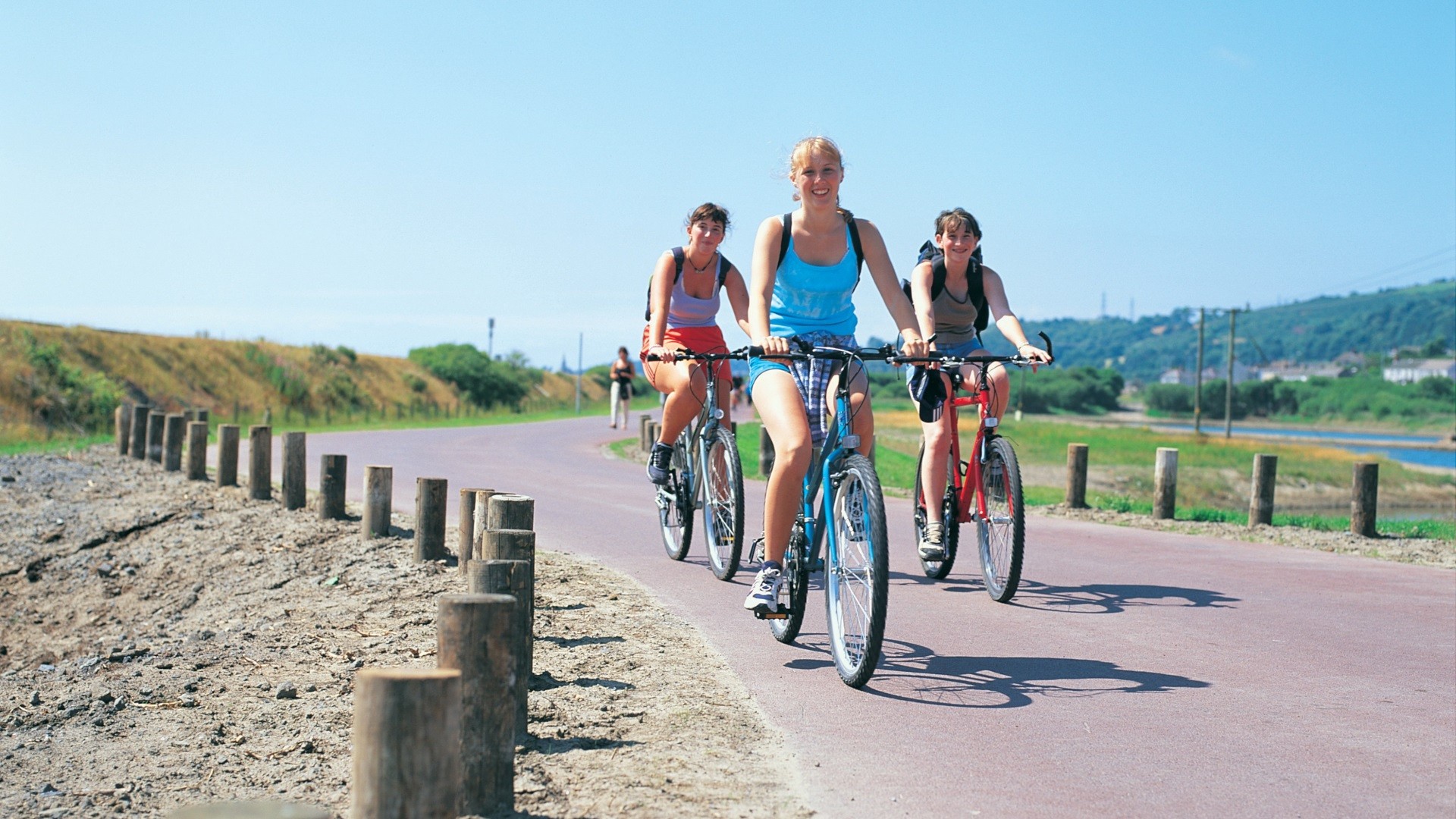 Wherever you explore this summer, we hope you have a great time! ☀️
Please send us your photos, or tag us in your travels, so we can share in your fun 👇
Whichever social channel you prefer - on Facebook (@thebikeclub), on Instagram (@jointhebikeclub) or Twitter (@jointhebikeclub).
P.s. If you have any other recommendations for Bike Club families, we'd love to hear from you!